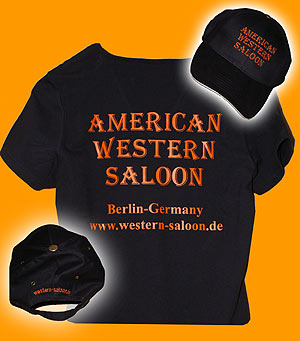 To fulfill the clichee of Country & Western Music, Cowboys and Indians we give a big "Howdy", "Hee Haw" or "Yippi Yeah" to all the guests and friends of the biggest little saloon in the world.
For your musical entertainment at the weekends we have the best Country & Western Bands and
sometimes also Rock Bands. Varying DJ's play classic and brand new Country discs and on the
dancefloor the european and world champions of american line dance Mirjam Hänsch, Yvonne
Redlitz, Natalie Redlitz, Mathias Schaal and Wippi incl. our newest dance coach TFD-Sabine teach
you how to move.
The only things you'll never find at the American Western Saloon is dancing with spurs and
bringing your pets.
And no matter if it's typical american or not: We celebrate the tradition of giving the service staff a
"tip". We accept credit card payments by EC up from 10,- Euros and by Visa, Mastercard and American Express up from 30,- Euros. Please note that we have to charge 5% fees of your bill for
Visa and Mastercard payments. Unfortunately we do not accept Amex anymore!
Since aprrox. 10 years you can watch a Jack Daniel's exhibition at the American Western Saloon
with over 450 different objects on the walls and in different cabinets. This is Berlins biggest and the
only public exhibition of Jack Daniel's bottles and accessories from the world famous distillery in
Lynchburg/Tennessee. All shown rarities belong to the private property of Frank Lange and they are
not for sale.
Our Eatertainment! Our restaurant offers homemade spare ribs, chicken wings, onion rings,
american pan pizza, chili con carne, salads like "Sorry Flipper" with tuna or our "Brokeback
Mountain Salad" with feta cheese, brownies, our ice-cup "Island in the Cream" and a selection of
american beers and various american, irish and scottish Whisky/Whiskey. "Our beers are as cold as
your ex wife"! We can offer you to have your own 20 or 30 Litre barrel and help yourself at a
special tap table. You can order a 20 Litre Barrel with Warsteiner Beer or in a 30 Litre Barrel Big
Moose Beer - the Pullman City Harz Beer or Wolters Pilsener Premium Beer, a regional
Braunschweig brewed beer.
If you want to party "A La Carte" at the American Western Saloon with more than 15 guests please
be prepared to wait a few more minutes than usual til you can enjoy your meal or benefit from an
early registration. For bigger events we can always recommend one of our special buffets (for a
minimum of 20 poeple). To make sure than your event runs smoothly we need 7 days before exact
information about how many guests you expect and if you have any special requests (50% payment
in advance required, extra charge for live music).
Please note than your table reservation at live music nights will be held til 9 pm. Ordered pre-saletickets
have to be paid and picked up latest one day before the respective event.
To occupy the whole Saloon for corporate events we expect your order 3 months in advance to plan
your event as well as our own schedule.
Monday til Thursday at 6 pm, Fridays and Saturdays at 7 pm we open our doors for dancing,
several theme parties and weekend live music. We hope you enjoy your stay at the
AMERICAN WESTERN SALOON.

Frank M. Lange / General – Manager & Jacqueline "Jackson" Jezewski / Manager